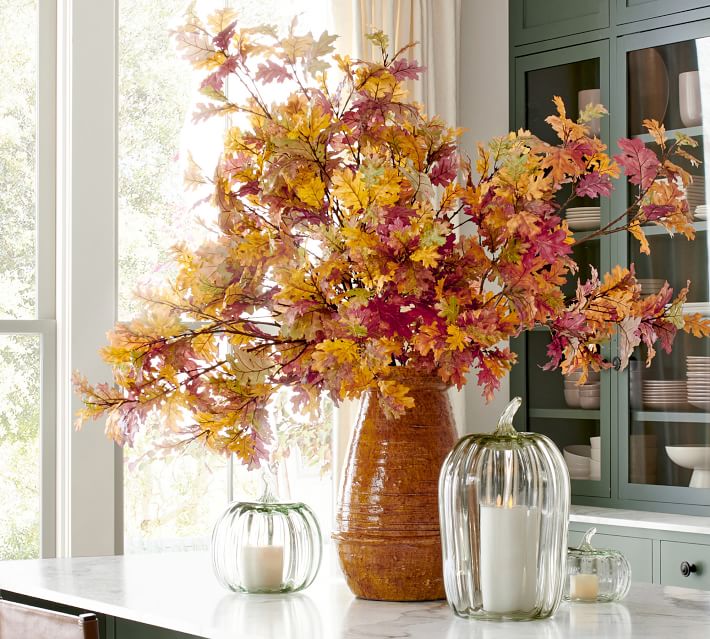 AAre you ready to transition your home in the fall? While I don't tend to use a lot of seasonal decor items, there is always a place in my house for foliage! On the dining table, on an entrance table, a console or a chest of drawers, on your fireplace, bedside table, on the kitchen counter… you can always find a place!
While it can be wonderful to search in nature, using faux foliage is totally acceptable. If you have allergies or limited options in your garden, you might prefer the wrong one! They may be worth the investment compared to buying in-store because they will last a very long time.
Today, I've collected some of my favorite faux foliage (and preserved flowers, and even fresh iron flowers!) Online along with some tips for getting the most interesting and realistic look.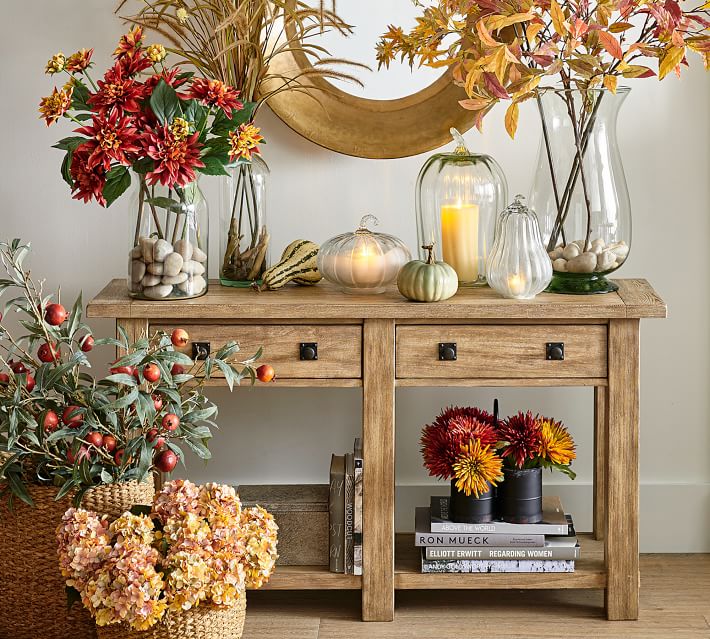 Faux Lace Hydrangea Bundle (above) / Fall Faux Oak Branch (top photo)
False foliage tips:
Mix the true and the false. No one needs to know that all is not real. It can be hard to tell the difference at a glance, so let it be your secret. Adding a few faux pieces can help your real foliage take it a step further and give you a variety of shapes, colors, and flowers that you might not have access to in your own backyard.
Select a few seasonal false stems that you mix with other basic plants or foliage. Keeping fewer seasonal flowers or branches will reduce the amount of seasonal items you need to stock.
Bend the branches and leaves to make them feel more relaxed and organic!
Vary the stem heights in the vase to give it a more interesting shape.
Create an airy arrangement, leaving room for maneuver for a simpler look.
Pack a visual punch using just one type of foliage.
Use unique containers for your foliage to make a one-of-a-kind statement!
Fill the bottom of the glass containers with rocks for added interest.
You can use water at the bottom of a glass vase to make the faux look more realistic!
Faux foliage (above) – click HERE to shop the look
Lot of autumn flowers
Dried pampas grass branches
Bouquet of foxtail
Preserved flower arrangement (above) – click HERE to shop the look
Faux pomegranate and pine cone garland
Faux Fall Leaves / Chilli Leaf Berry Stem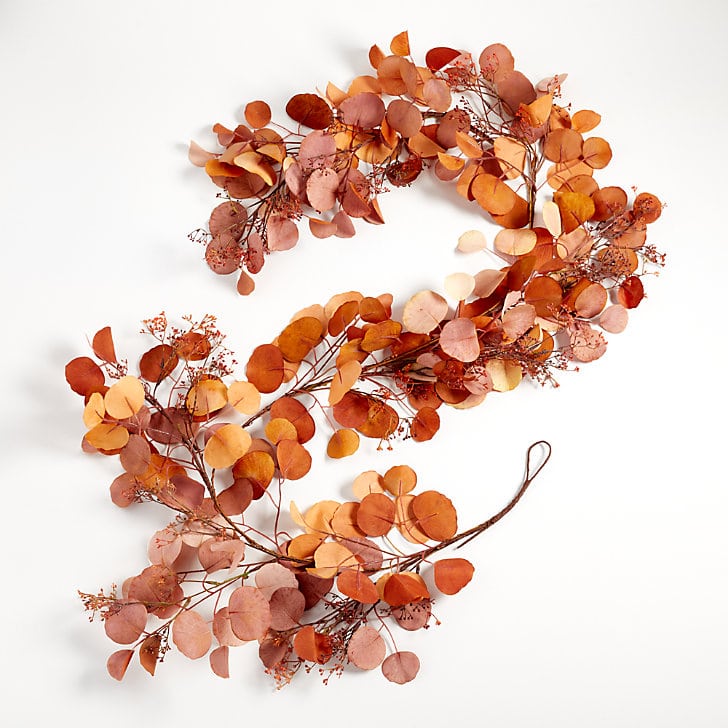 Autumn rust eucalyptus wreath
Iron magnolia stem
Chilli Leaf Berry Stem
Lot of faux persimmon and hydrangea

---
A SOUTH FOR YOUR THOUGHTS:
I know people have strong opinions about fake flowers over real flowers … so tell me, are you a fan of fakes? Or is it a ban?
Fall 2020 Nesting Items:
14 ideas for a cozy fall kitchen
Make your home as comfortable as possible (3 tips to take away)
Fall Putter Playlist
The essentials of the cozy personal care corner
Four essential home practices for every season
Cozy fall blankets
Fall nesting and doormats
My favorite fall decor in my cozy fall boutique
How to live well this fall
Click here for inspiration from the Fall Nesting series from the previous year!