I was looking through The Inspired Room book this weekend and noticing how many identical decor pieces and furniture we still use today! Over the years, I have received so many messages from people who notice that I often use what I have to decorate my home but style them in different ways. Hope this inspires you, please rest assured that you don't always have to buy new things to get a new look!
In the Instagram world these days, I see so many complete room renovations where just about every piece of furniture is new every year. Redecorating over and over again with new pieces until you're right, that just isn't realistic for most of us! I wrote more about how to decorate with what you have and update it over time in How to Decorate: The Slow Process Towards a Style You'll Love.
Sometimes you need or want to buy something new, of course! When I get new things, I want to be able to mix them into what I have. I think if you choose the right things, you should be able to keep them for many years, if not a lifetime! If you buy an entire room filled with furniture that is currently in fashion, when this trend passes you feel pressured to redecorate to bring a room up to date.
I am quite selective when choosing a new key or basic cabinet. I see them as investments, not disposables. My advice is to stick to timeless furniture with simple or classic lines. That way, it's easy enough to change a thing or two or add a new element to freshen up your look, but your home is unlikely to become outdated quickly. The whole room might not be on the cutting edge of every trend, but you can easily mix a trend or two to keep it fresh and up to date.
Right now, I am reorganizing my living room. I think it's fun to refresh a space without buying anything new! I will soon be sharing my remodeled room with you.
In the meantime, I wanted to show you a few items that I have purchased over the past 1-20 years that I consider must-haves.
Many of them are also on sale today!
Five of my most timeless pieces that I have purchased over the past 1-20 years are:
Leather sofa (on sale!)
Glass lamp (on sale!)
Covered sofa (on sale!)
Leather pouf (similar, on sale!)
Cane bed
1. Leather sofa
This sofa just got better and more comfortable with age! Mine is the color "caramel" in the size of the loveseat. I don't think they make this color or size anymore, but the signature maple leather looks a lot like mine!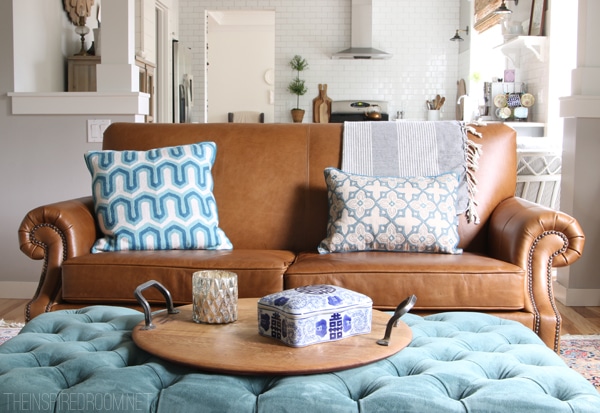 ---
2. Sofa covered with a slipcover
We have the 80 inch deep with warm white denim, more details on what I chose and why here.
---
3. Leather ottoman (similar to mine above)
---
4. Blue glass lamp
We have the biggest size!
---
5. Sugar cane
This comes in two color options!
What are your favorite timeless pieces in your home?